This month, my Regency Scandals Box Set featuring TOUCH ME, TEMPT ME & TAKE ME has been released as a holiday gift for my readers.  These three full length Langley Family romance novels feature three extremely different siblings with three very powerful secrets.  The Regency Scandals Box Set will bring you stories of love, passion and betrayal that will span the seas and will prove to be a perfect holiday season read.
TOUCH ME:  She's a lady pretending to be a miss driven b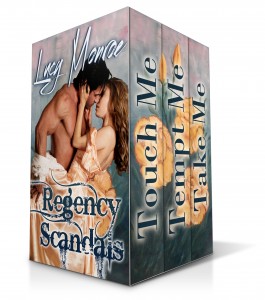 y the passions of a woman. He's a duke's son from the wrong side of the blanket used to getting what he wants and he wants her.
TEMPT ME:  Lady or hoyden, The Saint wants Irisa, but she has a secret that could destroy her and threatens the love she has for her honor driven fiance.
TAKE ME:  She's the untouchable duchess and he is Lord Beast. The past ties them together with a power that threatens her destruction as well as offering her redemption.