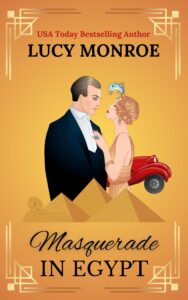 Writing Masquerade in Egypt was such a passion project for me and it's surreal that the book releases today. Get it from your local indie or chain bookseller, or read it on your Kindle (available in Kindle Unlimited).
A roaring twenties steamy romance mystery from USA Today bestselling and award winning author, Lucy Monroe.
Phryne Fisher meets Indiana Jones in 1920s Egypt, but with an HEA.
It's the Roaring 20s but Frankie Somers has been hiding her light under a bushel. After a disastrous and short marriage to a pilot who died in the Great War, it's taken hard work and sacrifice to cling to her independence. However, when the chance to realize her dream of going on an archeological dig in Egypt arises, she'll take every risk, including her own safety, to make it happen.
What she doesn't count on is the wild attraction that explodes between her and Professor Henry Thomas, the lead archeologist on the dig.
Although the grumpy, but sexy professor sees through her masquerade as her brother almost immediately, no one else does. All should be well, but someone is trying to undermine the dig and maybe even kill the man Frankie finds irresistible. Her habit of carrying a pistol and dead shot accuracy come into play, as well as Frankie's ability to drive with the best of them as she tries to figure out who is behind the dangerous "bad luck" on the dig.
Readers outside the US, click here for your Amazon link.
Want to buy your copy signed? You can get it from Jan's bookstore in Beaverton. Lori is fabulous to work with and she ships. Order here. You can also order the book from your favorite bookstore as it is available in the IngramSpark catalog.