As September winds down and the yummy days of fall come on with their gorgeous colors and crisp scents, I wanted to take a minute to highlight some new installations to book series from some of my favorite authors and guests at my End of Summer Book Bash on Facebook.  Let's all settle in with a new book, a warm blanket and a nice cup of tea.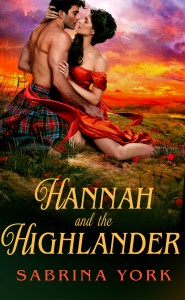 HANNAH AND THE HIGHLANDER by Sabrina York
Highlanders are her weakness.
Hannah Dounreay has no time for suitors who only seem interested in her family's land, which she manages as well as any man. If she marries, she wants to be loved for the educated, independent woman she is. But when a strong, silent–and spectacularly handsome–Highlander saves her from a violent attack, her heart is stirred. Who is this man? And if he asks for Hannah's hand, will she be able to resist him?
Love is the most powerful weapon of all.
Alexander Lochlannach, Laird of Dunnet, has no time to lose. The Highlands are in an uproar as clans battle for land–without mercy–and Alexander can't afford to fall for the wildly attractive, strong-willed Hannah. What's more, he has a desperate secret, one that could destroy them both. But as their attraction turns into an all-consuming passion, Alexander has no choice but to prove to Hannah that he's the only man for her–body and soul…
THE LAWMAN'S REDEMPTION by Danica Favorite
Lawman on a Mission
Former deputy Will Lawson is fighting to regain his reputation—and Mary Stone is his only lead to the bandit who framed him. Now that he's tracked Mary to Leadville, Colorado, Will needs the proud beauty to reveal her past. Instead, his efforts spark a mighty inconvenient attraction…
Mary's only real crime is that she once believed an outlaw's lies. Still, she fears disclosing the truth to Will may land her in jail—and leave her young siblings without protection. Now she must choose between honesty and safeguarding her family. And if Will does clear his own name, can he convince the woman he loves to share it?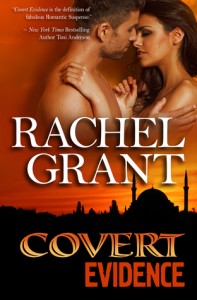 COVERT EVIDENCE by Rachel Grant
Falling in love was never part of his mission…
With visions of professional glory, underwater archaeologist Cressida Porter embarks on a research trip deep into the heart of Eastern Turkey. Her dreams turn into nightmares when she becomes the unwitting courier for a terrorist network. Stranded and unable to speak the language, she turns to a handsome and enigmatic security specialist for help, even while fearing he may be behind a violent assault that leaves her vulnerable.
CIA Case Officer Ian Boyd's mission is clear: follow the courier, identify the terrorist leader, and intercept the microchip before it falls into enemy hands. For Ian, cozying up to the alluring archaeologist to find out where her loyalties lie isn't exactly hardship duty. But spending time with her proves dangerous when she awakens a longing for a life he can never have.
Attraction wars with distrust as Cressida and Ian are forced on the run. When violence erupts in the already unstable region, Cressida discovers everything she knows about Ian is false. With all secrets revealed, Cressida must decide if she can trust the spy with her life, while Ian faces his own impossible choice: Cressida or his mission.
MELTING ICE by Jami Davenport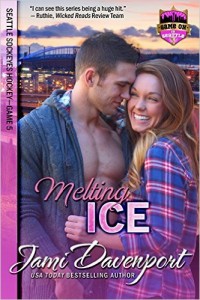 Brimming with attitude and broken beyond repair, Isaa
c "Ice" Wolfe has a heart as cold as his nickname, and he likes it that way–until he meets his neighbor Avery Maxwell. Avery is unlike any woman he's ever known. Her smile thaws his frozen heart. Being with her heals his broken places. She makes him feel, and for Isaac that's not always a good thing. Isaac has burned every bridge in his professional hockey career. When he's traded to the Seattle Sockeyes halfway through their inaugural season, he knows he won't get another chance. He's never been a team player, yet he needs to become one–and fast.
Avery has only wanted one thing in her life–to train and show horses. Her decision to drop out of college to pursue her riding career causes a rift with her big sister, but Avery is tired of following everyone else's dreams. Now she's following her own, and no one is going to distract her from her passion–until she meets a dark stranger and his cantankerous dog.
 When Isaac is warned away from Avery by the team's captain, who happens to be Avery's future brother-in-law, Isaac sees the writing on the wall. It's Avery or his career. To Isaac, a life without hockey wouldn't be a life worth living. But what about a life without Avery?
Do Isaac and Avery sacrifice their life's passions for their mutual passion for each other, or do they fight to have it all, even if by doing so, they might lose everything in the end?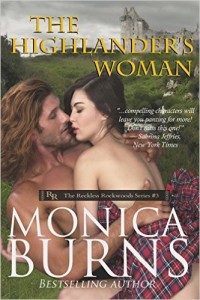 THE HIGHLANDER'S WOMAN by Monica Burns

WARNING: Book contains a proud, Highlander Laird unwilling to surrender his heart a second time, and a half-Scottish heroine who, like most members of the Rockwood clan, is up to the challenge of seducing the laird she loves and making him realize she's The Highlander's Woman.
Julian MacTavish's honor made him guard a friend's secret. But his lies to keep that vow make it difficult to prove his faithfulness as a husband. When a terrible inferno scars Patience's body and mind, she becomes a recluse. She hides not only from her friends in the Marlborough Set, but her husband as well, thus further widening the divide between them. But it's her lack of trust, not her disfigurement, which sends Julian home alone to the highlands of Scotland convinced he's lost her forever.
Forgiveness in the face of death comes easily to Patience MacTavish, but the thought of being a burden to her husband does not. When a twist of fate takes Julian's sight from him, Patience returns home hoping to make amends for not having faith in him. Pity is the last thing Julian wants from anyone, especially his wife, and it's his turn to question her sincerity. Now, Patience must convince her husband that she's come home to the highlands for no other reason than love, even if it means arranging her highlander's seduction.
A WEDDING TO DIE FOR by Adrianne Lee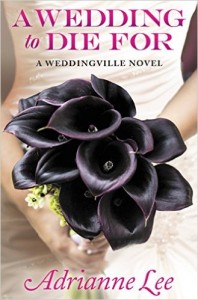 WELCOME TO WEDDINGVILLE
A hundred years ago, a tiny town on the Puget Sound attracted a passel of bachelors desperate to marry. Thanks to the miracle of mail order, they did, and Weddingville was born. Hollywood costumer Daryl Anne Blessing knows that story all too well, and she hasn't missed it, or much else about her hometown – except for hunky photographer Seth Quinlan. Now Daryl Anne returns to Weddingville to see her best friend say I do . . . and witnesses a whole lot of something hitting the fan-and it's not rice.
As the maid of honor, Daryl Anne must keep the bride calm, no matter what. But last time she checked, "what" didn't include the bride's estranged mother turning up, scandalizing the locals – and getting herself murdered. Nor did it include digging for clues with Seth, while trying to remember exactly why she left him behind. It's quite a juggling act, even for a seasoned multi-tasker like Daryl Anne. She soon attracts lusty glances from Seth-and the attention of a killer who's determined to take this town out of business . . .