After nearly a year out of print due to the publisher closing its doors, the second romance Lucy ever wrote, Annabelle's Courtship, is available in digital and print again.  Get your copy today!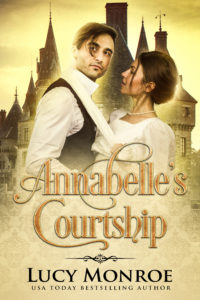 An inconvenient proposal.
Ian MacKay, Laird of Graenfrae, has no use for love or marriage. However, his stepfather''s will mandates that marriage is what he must have…to an Englishwoman.
A sensible man, Ian develops a list of requirements in a wife: Plain, moderately dowered, older and practical. He thinks he has found the perfect candidate in Lady Annabelle.
Labeled The Ordinary her first season, Annabelle longs for a man who will see her as beautiful and love her as her father loved her mother. When she meets Ian, she thinks she has at last found that man. Until his proposal, in which he has the audacity to list his "requirements."
She refuses his proposal. He informs her that she will marry him at the end of the season.
The battle of wills is on.
Read an excerpt on the book page.