Syndicate Rules: Mafia Romance by Lucy Monroe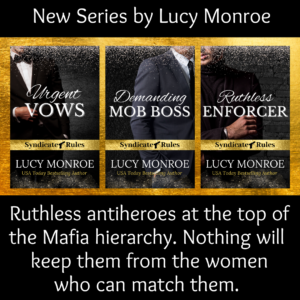 While these books have Lucy's signature emotional, steamy romance, these are not kinder, gentler mobsters. They are sexy alpha antiheroes and the women strong enough to match them. (Think Deadpool, John Wick etc.) Each book has a Mafia centered suspense subplot and a little humor and they all end with a definitive HEA, just the way Lucy likes it.
Fair warning: the books will be a departure from her usual style in that each has a content warning for violence and foul language.