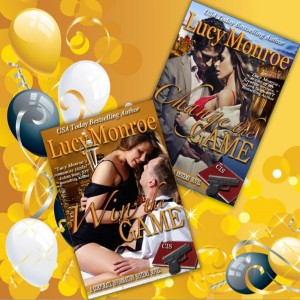 Change The Game and Win The Game, my Corporate Information System Novels, are on sale for $2.99 at Barnes & Noble Nook and Amazon Kindle for the month of November.
If you have not read these two books set in a high-stakes game of love and attraction, now is the time.  Add them to your reading queue before the hectic but fun-filled holiday season approaches and they return to full price.
CHANGE THE GAME:
Like father, like daughter.
That's what businessman Alex Trahern thinks about Isabel Harrison. If the prestigious headhunter thinks she can steal his top employee, just like her father stole his dad's ideas, she's dead wrong. Alex is always a man with a plan, and his plan is to get revenge on John Harrison through his daughter. But there's no contingency plan for the impact Isabel's sparkling green eyes and honey brown hair have on the decidedly non-business side of his brain…
If at first you don't succeed, change the game.
After some relationship flameouts, Isabel's decided to leave love out of it and approach her search for a husband like finding a suitable job candidate. And according to her list of requirements, Alex Trahern certainly has potential. He's sexy. (Check.) Forceful and fascinating. (Check, check.) Also arrogant, obnoxious, and way too hot for her own good. (Erase. Start over.) Now, if only she could find out what he's really after…
WIN THE GAME:
SURPRISE, SURPRISE
The last woman security business consultant Marcus Danvers expects to find at Kline Electronics is Veronica Richards. He's supposed to be rooting out a corporate spy, not rehashing an old love affair—with the woman who sold out the company they both used to work for and then took off without so much as a kiss goodbye. All the clues point to Ronnie as the firm's newest mole, which means he'll have to spend time with the stubbornly reticent—and mouthwateringly sexy—woman he hasn't been able to forget, and uncover every last thing she has to hide…
FANCY SEEING YOU HERE
It's just Ronnie's luck. The one man she'd hoped never to see again is suddenly everywhere she looks—and taking up a starring role in her daydreams, too. Remembering the passion she and Marcus once shared certainly isn't going to help, though, not when she has so many secrets, and no explanation for the way she left him eighteen months ago&8212;or at least not one he'll want to hear. The problem is, when Marcus is around all her good intentions go up in smoke…
Sometimes plans go awry…