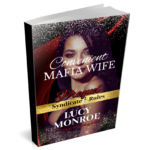 When I wrote Convenient Mafia Wife, I intended it to be a bonus prequel for readers of my Syndicate Rules series. I did not intend for it be the length of a short novel (as opposed to a novella). But like writing often does, the story took on a life of its own. Giulia and Raff's story, which I expected to be a couple of scenes included with the set up for Urgent Vows became more. Still, I didn't think I would publish it in paperback, but readers asked and so here it is.
Two couples. One HEA and one Prequel Cliffhanger.
GIULIA
Our marriage cemented the alliance between our families. Emotions shouldn't come into it, but I fell in love with the ruthless underboss I married. Only to him, I'm nothing more than incubator to carry his heirs. I adore our son, but I've been putting off having another child. Raff is going to flip when he finds out about the birth control.
RAFFAELE
She is smart and beautiful, but there is no room in the life of a mafia underboss for tender emotions. At least that's what I thought when we got married. Six years has changed a lot, but my wife thinks I'm the same merciless man she wed. To everyone else, I am. But not to her. She'll forgive me for sending her to a fertility specialist. She has to, because I will never let her go.
Giulia and Raffaele's story is a steamy mafia romance with a guaranteed HEA. No cheating.
CATALINA
My sister is engaged to the don that sets my senses ablaze. I have no choice but to make plans to run. To escape my father and this incessant physical need Severus sparks in me.
SEVERU
Someone is attacking my mafia. I have to protect la famiglia at all costs, even if that means agreeing to marry a woman I have no feelings for. I just have to ignore the way my body reacts to her sister,.
As the prequel to Urgent Vows, this is the only book in the Syndicate Rules series that is not a standalone. Because it is a prequel, Catalina and Severu's story ends on a cliffhanger.
CW: explicit intimacy, graphic violence, foul language, fertility issues discussed, and domestic violence (past reference and on the page – not between the main characters)
Readers outside the US, click here for your Amazon link.
Want to buy your copy signed? You can get it from Jan's bookstore in Beaverton. Lori is fabulous to work with and she ships. Order here.