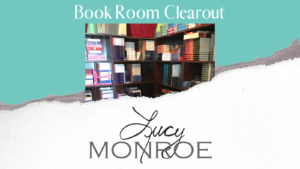 My book storage room is getting seriously full and I was thinking of what I could do with all these author copies that are just stacking up now that I no longer run monthly contests.  And I thought, maybe I could finish off 2020 by doing some good.
So, here's the deal.  This is *not* a contest, but a giveaway with a caveat.  If you live in the continental United States (or have an APO address) and donate $5 (or more) to No Kid Hungry I will pay the postage for media mail and send you a personalized, signed mass market paperback book.  If you donate $10, you may request a particular title and if you donate $20 (or more), you may request 2.*
Just email me a screen shot of your donation receipt that clearly shows your name, the amount of the donation and the No Kid Hungry name. Also, please include the shipping address you want the book sent to.
International Readers Option: Simply make a donation (equivalent to $5US, or more) to a charity that focuses on feeding children in need.  Send me a screenshot of your receipt (as above).  Then, instead of a signed print book, I will send you a pdf format of one of my self-published titles/re-releases that will include a unique, personalized signed by author page.  If you donate $10, you may request a particular independently published eBook title and if you donate $20 (or more), you may request 2.*
*If you donate $15, include a list of three options for books you want signed.  If you donate $25, or more, include 4 options.  I will try to give you the first one(s) listed, but in the event I no longer have giveaway copies of the title(s), I'll go with the other option(s).
Legal disclaimer: Lucy Monroe is not responsible for how long the postal service takes to deliver the book, its condition or loss once it is in the possession of the postal service.  Lucy will not send books in exchange for charitable donations that do not fit the requirements given above.  Lucy will not send books to anyone who uses abusive language or terminology in their email to her.
This offer is limited to the first 100 claimants and will end on December 31, 2020.