on

January 5, 2018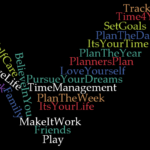 I'm a planner. I always have been, but that doesn't mean my time doesn't get away from me. I'll freely admit I struggle with saying no, setting both time and personal boundaries, but that's what makes doing so incredibly important for me. Knowing how many other people struggle with setting goals, much less achieving them,
on

November 13, 2017

For years, I saw all the NaNoWriMo posts on social media and author groups and thought, "Sounds neat, but I'm already writing every day and finishing my books."  Then when I wasn't finishing my books, I couldn't imagine adding the pressure of having other writers looking at me like, "Why didn't you do your word

on

October 11, 2017

What is the bogeyman in your closet?  The monster hiding under your bed?  That thing that scares you the most?  The stuff true nightmares are made of? I can tell you, I've redefined mine: the loss of self, the loss of  my brain's facility and acuity. Over the years, I've had a lot of fears

on

January 12, 2016

How did your writing go today?  It's such an innocuous question and yet my knee jerk reaction is to freeze in panic and stutter out some answer in guilty undertones, no matter how accomplished I was feeling moments before.  Yesterday was the first day since returning from my trip to Europe that I'd written, the

on

November 11, 2015

When people talk about the solitary life of the writer, they are usually referring to the writing process itself, the hours spent in front of the keyboard giving voice to thought, creating a book from a jumble of words in an author's head.  But there is so much more that goes into writing a book

on

October 27, 2015

…is a lot harder than it sounds. So, I spent nearly three years slowly losing my ability to write until it was gone completely. And then I spent months wondering if I would ever write again. Scary stuff for a creative type like me. When the freedom to create returned, I'm not sure that's how

on

October 13, 2015

Do you ever have that moment when things are going along fine and then suddenly you just realize that you have umpteen million things to do (or well, it feel like that anyway) and no way like enough time to do them and not one of those things can go undone?  And the things you

on

September 29, 2015

Social Media is full of inspirational messages. You know what I'm talking about.  Those neat little quote pictures that show up in our newsfeeds on Facebook, Twitter, Tumblr, & Instragram.  Life is about change.  Believe in you and watch the magic happen. There are seven days in the week, Someday isn't one of them. I

on

September 15, 2015

It will come as no surprise to many of you that in this Tango of 3 Steps Forward, 2 Steps Back in my journey toward wellness, some of those steps have been taken in my marriage.  Both Tom and I have struggled with the reality of my depression and his ADD and well, nearly three

on

September 9, 2015

I was in my mid to late twenties when I realized that maybe my dad was a broken person and maybe he had loved me after all. That means I grew up with the bone deep belief and held that same bone deep belief into my late twenties that my dad did not love me.