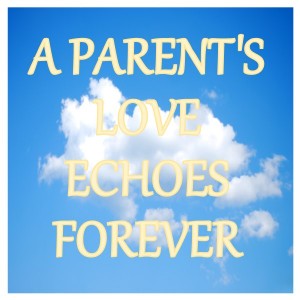 I was in my mid to late twenties when I realized that maybe my dad was a broken person and maybe he had loved me after all. That means I grew up with the bone deep belief and held that same bone deep belief into my late twenties that my dad did not love me. He was a broken person, made that way by parents who had hurt him in ways that left him incapable of giving love in a meaningful way and more than capable of dishing out rejection and hurt. Only, looking back, I know that wasn't what he wanted to do. Not at all. But he was broken. So very, very broken.
My mom did most of the raising of us kids and she was desperate that we grow up to be stronger, better, happier than she was. She wanted more for us than she'd had, better lives, less brokenness. Only she was the best person, the strongest woman, the most loving, the kindest person I knew. Her message morphed into something twisted and oh so painful. If she was the best and the brightest, how could I ever be enough? How could I ever measure up to what she needed me to be?
So, there I was, this woman-child raised with the knowledge I was supposed to be the best, the brightest, the strongest; a shooting star that was supposed to set the world on fire and all I wanted was to be loved. Only, I wasn't enough. Not enough to be loved by my dad, not by my stepdad, the one who walked away just like Dad had done, just like my sibs had done for a while, just like Mom had even done for a bit, by the time I'd reached my adulthood I'd gotten the message good and clear. I was supposed to be MORE than enough, but I could never BE enough, only I HAD to keep trying.
And I was surrounded by people who loved me, really and truly and would do forever. My mom, my brother, my sisters, (even the one no longer in my life still loves me just like I still love her and will always pray for her, I know this deep in my heart), my grandmother, two dear friends who are still in my life and very soon after would come Tom.
But deep inside, where we know ourselves to be true, I knew I wasn't enough. I burned and I burned bright, taking care of those I loved, serving others, doing all I could to prove I was what my mom needed me to be, to prove I was worthy of love, but knowing I wasn't all that. Knowing I never would be. If as an innocent child, who had done her best to be as good a she could be, I was not enough how could this imperfect woman possibly ever measure up?
For decades, while I counseled others that they were enough, that God loved them, that Jesus died for their sins, that they were beloved, I believed I was the exception. I was the one problem child never good enough, who could never do enough, never give enough, never be a good enough mom, never be a loving enough daughter, a stalwart enough sister, never an involved enough aunt, a concerned enough niece, a serving enough granddaughter.
My problems with anxiety, agoraphobia, social anxiety disorder and depression started decades before I allowed anyone to know about them. I hid my symptoms, stuffing my feelings, hiding my terror inside, not admitting to what made me not show up at this funeral or that gathering, just feeling like the worst family member ever. Others needed me, I had to be strong. I had to make things okay for others. I wasn't a martyr. I really believed that. My baby sister had clinical depression. We all knew that. I couldn't be sick too. It was all my thyroid. I would get over it. I would be fine. Don't worry about me. My mom was sick. She needed all of us.   Not for me to fall apart.
I wasn't the best mom during my kids teenage years, but I've finally realized I wasn't the worst either. I wasn't even a bad mom. I really did do my best. And if you factored in I was hiding a bad case of clinical depression, social anxiety disorder and SAD triggered agoraphobia, I kind of rocked raising a son with a thought disorder and two daughters who defined female adolescence. Also, two Korean exchange students for three years and two more teenage boys who got kicked out of their homes for one reason or another. (Yeah, it was a busy time.)
I've made mistakes as a parent. I've made mistakes as a wife, as a daughter, a sister, a friend, a niece, even as a granddaughter. And yes in my career as a writer. Who doesn't? That doesn't mean I'm not enough.
I'm writing this because it may have taken me 48 years, some therapy and A LOT of soul searching, but I'm finally coming to realize that I am enough. So are you. We do not have to be more than we are to be enough. I am a kick ass mom, wife, sister, friend, niece and writer! And my mom would have told you I was a kick ass daughter. She would have said it that way too. Grandma Lilles would have said I was a good granddaughter, so would Grandma Lucille, even if it was grudgingly.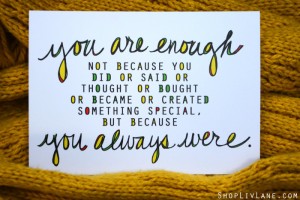 Here's the thing. Even if the people in your life won't or wouldn't have affirmed you, it doesn't matter, because YOU ARE ENOUGH. You are exactly the person God created you to be. He loves you without conditions, without improvement. Version 1.0 without bug fixes.
I'm not going to get into the whole striving to be better thing here. There are plenty of people who will encourage you to be the best you can be. I'm here to tell you that you are enough right now to be loved. You have value right this minute. Just take a breath and say it with me, "I am enough." Now say it again. "I am enough."
We are enough.
Blessings and love,
Lucy